It is always wonderful to walk through Funchal. Its ancient streets (1614) always have something special to show and delight us.
At the time of the Pirates, many Madeiran feared for Funchal to be near the sea, since attacks from foreign ships were common and the memories of these attacks were kept in beautiful buildings, such as the St. James Fortress.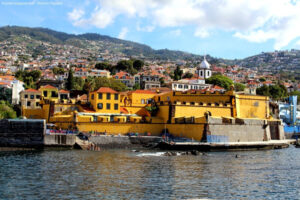 The Saint James Fortress was built in the early 17th century as a form of defense of the port of Funchal. It is urban military architecture and is located in the Old Town.
Within its walls by the sea the visitor can taste delicious menus in the Forte Restaurant that has prices between 17 euros (dishes a la carte) or special menus that cost 42 euros per person and include couvert, entrance with white or red wine, sorbet , main course, dessert and coffee with wine wood.
This beautiful beachfront building offers beautiful views and wonderful pictures in the corners of Bartolomeu João. With beautiful bastions and beautiful yellow walls that take in the view of the pebble beach, the fort enchants those who go there to travel in the history of the discovery of the Pearl of the Atlantic.
We love to spend moments of leisure and contemplation in this beautiful and architectural postcard that reminds us of the friends who visited us and who were here with us. The idea of ​​traveling in Madeira's centuries-old stories also appeals to us very much.
We always recommend our visit to our citys tours, either to visit the fort or to have lunch with an extraordinary view.
Certainly knowing this Fort is a fantastic experience on Madeira Island.
Hours of Operation:
Monday to Saturday: 10:00 a.m. to 5:00 p.m.
Closed on Sundays and Holidays
Text: Fabricio Lacerda
Images: Ricardo Figueira; Visitmadeira.com; visitfunchal.com
We invite you to acess also:
Facebook: Guia Ilha da Madeira
Instagram: @guiailhadamadeira
All rights reserved.
2017 © Guia Madeira Island. The reproduction, without limitation, of texts, photos or any other material contained in this site, even if the source is mentioned. If you would like to purchase our materials, please contact us.