To be on an island full of nature is certainly a happy choice when it comes to thinking about quality of life, but imagine when you can on this same island, do unusual things that fill you with new emotions and lots of adrenaline.
At the invitation of the company Mero Diving, I went to enjoy a swim in the Garajau Marine Reserve, on the south coast of the Madeira Island and created in 1986. There you can observe a rich marine fauna with fish of various sizes and species, such as Mero (Epinephalus guaza) who here in Madeira are fully accustomed to socializing with the divers which creates the possibility of swimming between them.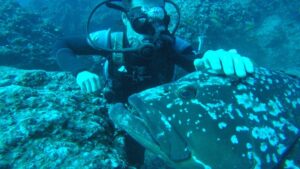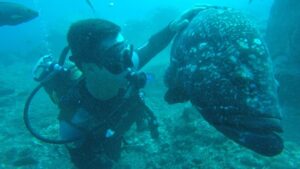 Within the reserve area it is forbidden to fish and navigation is conditioned, so there is no reason for the rebellion of this animal, which often comes up to you coming to bump or drag your body in your neoprene and or diving equipment.
The company offers this baptism that lasts on average one hour in the water and costs 50 euros. Before the activity a briefing on how to behave within the aquatic environment, and also how to get out of controlled risk situations inside the water. Our dive even comes out of the beach … at a height of 15 to 20 meters deep, the curious mere mounds of attention appear in every movement we make.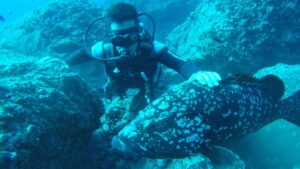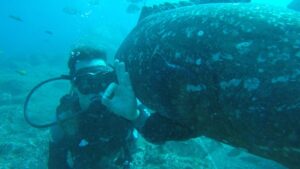 It is worth mentioning that all the diving there is an instructor side by side with you that guarantees quality and safety at our baptism, in addition a fantastic quality closely followed by the owner of the company, Mr. Carlos, as well as the friend Bernardo who was extremely attentive in all moments of the dive.
For me, I can say without doubt that it was a memorable experience that I will repeat and indicate to all who come to the island.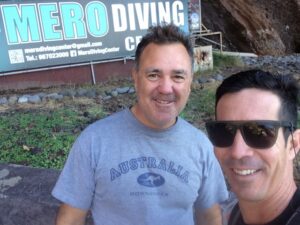 We invite you to acess also:
Facebook: Guia Ilha da Madeira
Instagram: @guiailhadamadeira
All rights reserved.
2017 © Guia Madeira Island. The reproduction, without limitation, of texts, photos or any other material contained in this site, even if the source is mentioned. If you would like to purchase our materials, please contact us.