Well, today I decided to talk about of one of the most beautiful expressions of beauty of the archipelago of Madeira Island – the Desertas Islands, which are the view from my side window and which enchants me with its volcanic beauty and strong environmental relation as sanctuary of nature.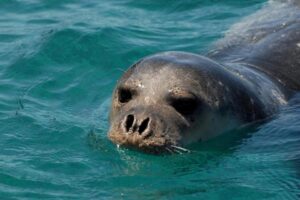 Desertas Islands are a sub-archipelago of the archipelago of Madeira, of volcanic origin, and are located to the southeast of the Island of Madeira. They are made up of 3 islands – Ilhéu Chão, Deserta Grande and Bugio, administratively part of Santa Cruz, where I live, and in the clearest days the reddish and yellowish tones reflect all this scenic beauty easily seen on the south coast of Madeira.
Desertas Islands are characterized by being a stronghold for small birds, the playful Lobo Marinho (about 23 animals that live there) and invertebrates such as the Tarantula das Desertas (Lycosa ingens) that is endemic … not to mention a large variety of plants of the most diverse forms.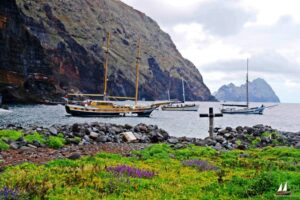 This area became Protected Area in May 1990, becoming the Nature Reserve in 1995. Underwater hunting is prohibited throughout its area, and because steep slopes access to beaches becomes practically impossible, and the only way to get there is by boat. Its private access is restricted but commercially there are 3 companies located in Funchal make full day trips there (from 9am to 7pm) with an approximate cost of 80 euros per person, with lunch included.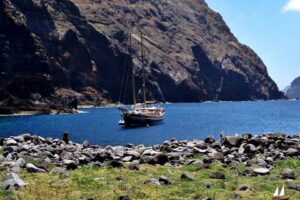 Swimming here is permitted and it is no wonder that the conservationist Jacques Cousteau said he found the clearest waters in the world. With its quite pleasant water temperatures a snorkeling is almost a must-see attraction for sea lovers. Of course, Nature Watchers, members of the Madeira Natural Park, remain vigilant to maintain due care for the environment.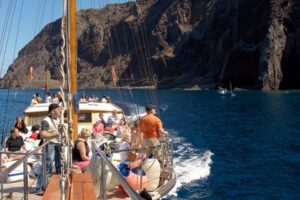 Going there is to take a trip back in time and marvel at an incredible landscape where nature and environmental preservation go hand in hand. Also check out that the Desertas are a unique paradise on Earth.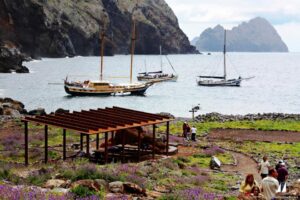 For more information, just send us a message … we will be happy to take you to know this nook of nature.
Text: Fabricio Lacerda
Pictures: VisitMadeira and Bonita da Madeira
We invite you to acess also:
Facebook: Guia Ilha da Madeira
Instagram: @guiailhadamadeira
All rights reserved.
2017 © Guia Madeira Island. The reproduction, without limitation, of texts, photos or any other material contained in this site, even if the source is mentioned. If you would like to purchase our materials, please contact us.