Cruises on Madeira Island
Funchal attracts tourists all year round. Being an island of subtropical temperatures in the middle of Europe, Madeira has visitors from all over the world, all year round.
What differentiates between winter and summer is usually the way tourists come to the Island. In summer most of them come by plane (there are no bridges or roads to reach an Island at least 500km away from the nearest continent). In the winter, cruises arrive on the Island almost every day and bring tourists from all over the world.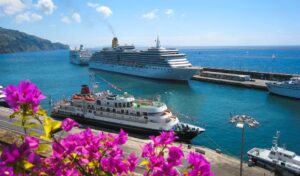 There are several companies that arrive in the Pearl of the Atlantic, with the main ships: Aida, MSC and Queen Elizabeth, but also giants such as Harmony of the Seas, operated by Royal Caribbean with its 362 meters in length and capacity of 6360 passengers in addition to its 2100 crew members.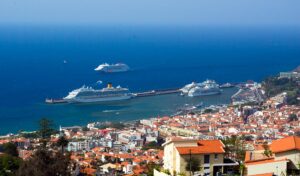 Usually the ships arrive at dawn or early morning and depart at the end of the day, mostly for stopovers in the Balearic Islands (being the main Tenerife) or return to the continent by going normally to the Mediterranean Sea.
Undoubtedly a special way of knowing an Island that for the third time was considered the most beautiful island destination on the planet.
Images: www.lido-tour.com and www.aida-weblounge.de
Text: Fabricio Lacerda
We invite you to acess also:
Facebook: Guia Ilha da Madeira
Instagram: @guiailhadamadeira
All rights reserved.
2017 © Guia Madeira Island. The reproduction, without limitation, of texts, photos or any other material contained in this site, even if the source is mentioned. If you would like to purchase our materials, please contact us.